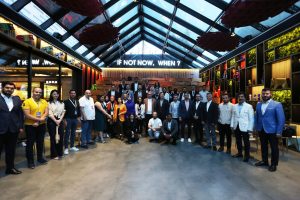 In 2022, the International Incubation Center (IIC) emerged as a dynamic initiative, born from a trilateral partnership between the Republic of Türkiye Presidency Investment Office, Bilişim Vadisi, and the Islamic Cooperation Youth Forum (ICYF). Since its inception, IIC has been dedicated to nurturing entrepreneurial talent by providing a comprehensive array of services, including idea validation, team formation, design thinking, company establishment, product development, marketing, project and patent consultancy, mentoring, access to funds, global investors, and online training.
As of the first quarter of 2023, IIC proudly supports a thriving community of 40 startups. Among these, 10 standout ventures, representing three distinct terms of incubation, took the spotlight at the highly anticipated Demo Day, held on September 13th.
During this captivating event, the entrepreneurs behind these innovative startups shared their remarkable success stories, including their transformative 6-month journeys nurtured by IIC. The audience consisted of prominent figures, including investment groups, seasoned mentors, and representatives from the world of angel investing.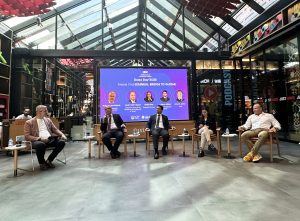 Notably, the Demo Day on September 13th also featured an enlightening Fireside Chat titled 'Istanbul: Bridge to Global.' The panel discussion brought together thought leaders such as Ahmet Cuneyt Selcuk, Financial Investments Unit Manager at the Investment Office of the Presidency of the Republic of Türkiye; Erkam Tüzgen, Secretary General of the Istanbul Development Agency; Günce Önür, General Partner at Startup Wise Guys; and Mehmet Alpatlı, Business Development Director at TLS.IP. Their insights into the global landscape of entrepreneurship added a valuable dimension to the event.
These 10 startups have successfully completed intensive entrepreneurship training and mentoring programs at IIC, showcasing their prowess across diverse fields of activity.
Invamar (Türkiye):

Among their developed products are smart fabrics that collect data and garments that translate the neurostates of non-verbal individuals.
Workiom (Syria):

It offers a fully integrated workspace to manage all your work in one place, eliminating the need for endless subscriptions and scattered data.
Biopols (Türkiye):

A biotechnology company that focuses on biopolymeric active materials, creating smart designs to solve problems like short shelf life in food preservation, allergic reactions in drug delivery, and biocompatibility issues in biomedical devices.
Peachy (Azerbaijan):

A multinational technology company with a social impact, providing beauty and wellness services.
Devamapp (Türkiye):

Mobility vehicles are now available on a single platform. Choose your mobility vehicle with Devamapp, plan your journey, and get on the road.
MHRB (Australia):

MRHB Network aims to bring Sharia ethics to the DeFi ecosystem by providing a reliable and transparent DeFi system for both Muslim and Western cultures to benefit from the combination of DeFi innovation and ethical practices in Islamic finance.
Derivative (Lebanon):

Derivative Robotics is a Turkish-based startup specializing in the development and production of Autonomous Mobile Robots (AMRs) for use in warehouses and other industrial environments.
Fatora (Qatar):

Fatora is an all-in-one tool for invoicing, payments, cashiers, and online stores.
Robolabs (Egypt):

Robolabs manufactures robots that use UV lights and artificial intelligence to clean places hazardous to human health.
Line (Syria):

Line is a platform that connects foreign human resources to foreign organizations living in Turkey.