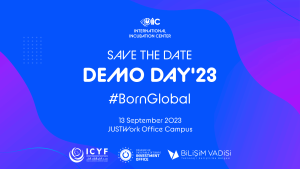 We are excited to share with you that the ICYF International Incubation Center (IIC) will organize its Demo Day'2023, an event featuring startup pitches, insightful panel speakers, and investors. This event will provide a platform for ambitious entrepreneurs which will be presenting their innovative ideas, exceptional skills, and growth potential alongside top names from the business ecosystem.
🚀 What to expect: 🚀
🎤 Startup Pitches: Get ready to be amazed by the brilliant minds behind our cohort of talented entrepreneurs. Witness firsthand their groundbreaking ideas and exceptional skills that are poised to shape the future.
🎙️ Insightful Speakers: Immerse yourself in thought-provoking discussions led by industry veterans and experts. Gain valuable insights into the latest trends, challenges, and opportunities that are driving the startup ecosystem.
💼 Engage with Investors: Forge meaningful connections with potential investors who are on the lookout for the next big thing. Whether you're a startup founder seeking funding or an investor looking to support promising ventures, this is the ideal platform to meet your match.
🌐 Networking Opportunities: Connect with like-minded individuals who share your passion for innovation and entrepreneurship. Expand your network, exchange ideas, and discover collaboration prospects that could take your venture to new heights.
🎉 Date and Time: 13.09.2023, 14.30-17.00
📍   Location: JUSTWork Office Campus 
📅 Mark Your Calendar: RSVP to secure your spot and be part of a dynamic gathering that celebrates innovation and growth.
📣 Spread the Word: Share this exciting opportunity with your network and colleagues. Let's come together to support the future of innovation!
🔗 RSVP Now: https://bit.ly/ııc-demo-day 
We look forward to welcoming you at the event that promises inspiration, connection, and a glimpse into the limitless potential of entrepreneurship. See you at Demo Day!
For inquiries and more information, please contact incubation@icyforum.org