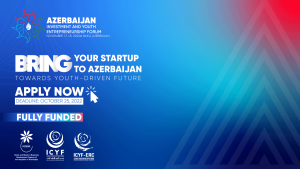 AZERBAIJAN 
Investment & Youth Entrepreneurship Forum
17-18 November 2022
The Islamic Cooperation Youth Forum (ICYF) and the Small and Medium Business Development Agency (SMBDA) are inviting startups to Baku to attend the Azerbaijan Investment and Youth Entrepreneurship Forum on 17-18 November 2022.
The Forum aims to bring local and international organizations/companies, policymakers, government officials, entrepreneurs, experts, investors, VCs, businesspeople, CEOs of top corporations together to discuss how to strengthen the startup ecosystem in Azerbaijan, Eurasia and in all OIC Region and how to develop a new vision to support youth entrepreneurship.
The two-day Forum will contain a series of fairs, panels, cultural events, exhibitions, networking sessions, round table discussions and workshops. The panel discussions will be based on the startup investment, youth entrepreneurship and development of the startup ecosystem.
Startups will be selected from the following verticals:
Food & Agri-Tech

Green Industry

Fintech

Games and Applications

Environment & Renewable Energy

Smart Tech

Aviation & Space Tech

Logistic & Smart City

Robotics and AI
In the context of the Forum, leading innovative international startups and SMEs will showcase their innovations for two days for high-level participants and will present their pitch decks to the global investors.
Closed roundtable discussions are also planned with local & international investors, government officials and representatives of the youth focusing on economic empowerment of the youth in Eurasia, in OIC region and beyond for reaching sustainable development.
ELIGIBILITY CRITERIA
Azerbaijan Investment and Youth Entrepreneurship Forum application is open to startups of the OIC Member States and Muslim minorities in Non-OIC Countries.

Aged between 18-35
Ability to communicate in English
*Visa support, travel expenses, accommodation, and meals will be provided by the Organizing Committee
Important! Only selected participants will be informed.
DEADLINE: October 20, 2022