Kazan 9
th
OIC Youth Entrepreneurship Forum
The 9th Kazan OIC Youth Entrepreneurship International Forum took place in Kazan, Republic of Tatarstan (RF), from May 15th to 19th, 2023. The event, jointly organized by the Eurasian Regional Center of the Islamic Cooperation Youth Forum (ICYF-ERC), the Ministry of Youth Affairs of the Republic of Tatarstan, and the Youth Social Fund "Selet" of the Republic of Tatarstan, aimed to foster entrepreneurial spirit and innovation among young individuals. 
The Forum kicked off with an inspiring opening ceremony, featuring esteemed speakers such as Ms. Aigul Sabirova, Deputy Minister of Youth Affairs of the Republic of Tatarstan, Mr. Vusal Gurbanov, Acting Director General of the Eurasian Regional Center of the ICYF, Mr. Rustem Yunusov, Deputy Director General of the Kazan IT Park Technopark, and Ms. Dilbar Sadykova, Chairwoman of the Academy of Youth Diplomacy. The speakers delivered welcoming remarks, expressing their support and encouragement for the participants. 
The first day of the forum included educational sessions led by renowned experts. Mr. Ziad Barouni conducted an engaging session exclusively designed for startups, focusing on the art of storytelling, pitching, and critical thinking. With his expertise, he provided valuable insights and strategies to empower entrepreneurs in effectively conveying their narratives, delivering compelling pitches, and honing their critical thinking skills. Following that, Mr. Adeniyi Adebayo facilitated a comprehensive entrepreneurship course, equipping participants with essential knowledge, practical tools, and valuable resources to navigate the entrepreneurial landscape and maximize their chances of success. 
On the second day, partners of the forum delivered presentations showcasing their respective centers and expertise. Speakers such as Mr. Orkhan Abbasov, Managing Director of SABAH.lab Acceleration Center, Ms. Jamila Asgarli, Project Manager at Next Step Innovation Center, Mr. Necmettin Gurses, Expert at ICYF International Incubation Center (IIC), and Mr. Vusal Rustamov, Director of Innovations Center LLC – Innoland, shared insights and experiences with the participants. Furthermore, an educational workshop on Marketing and Sales was conducted by Arzish Azam and Shehab Niazi from Ejad.labs.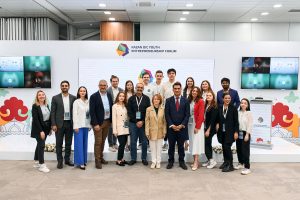 During the third day, three panel sessions took place, addressing various topics relevant to young entrepreneurs. The first panel discussion focused on the development of young entrepreneurship in Russia and OIC countries, aiming to identify strategies to overcome challenges and foster growth in these regions. The second panel centered on youth entrepreneurship within the Islamic world, shedding light on the unique opportunities and challenges faced by young entrepreneurs in Islamic countries. The final roundtable session explored the implementation of innovative startup solutions within OIC countries, seeking strategies to foster innovation and create a conducive environment for startups. 
The event culminated in the signing of significant agreements, symbolizing collaborations and partnerships. IT Park Kazan and Shahid Beheshti University signed an agreement aimed at facilitating the exchange of knowledge in the field of information technology. Additionally, multiple Memorandums of Understanding (MOUs) were signed between ICYF-ERC and various organizations, including the Youth Entrepreneurship Support Center of Uzbekistan, Ejad Labs, and Future Fest, reflecting a commitment to support startups and nurture the capacity building of young entrepreneurs in the Eurasian geography. 
A highlight of the forum was the Demo Day, where 30 startups from 15 countries showcased their innovative projects. The startups, both online and offline, presented their ideas to a jury of international experts. The first-place winner, the "Evocraft" project by young businessmen Ali Cherif and Haytem Dabbabi from Tunisia, received USD 10,000 in funding from ICYF-ERC. The winning project aims to spread technological knowledge and foster scientific achievements among young people. OTO Courses, the second selected startup, was honored with an award from the International Incubation Center, granting them participation in a six-month program held in Istanbul, which includes essential provisions such as office space, accommodation, meals, and networking opportunities. 
The 9th Kazan OIC Youth Entrepreneurship Forum successfully provided a platform for young innovators to learn, collaborate, and showcase their talents. The event's educational sessions, panel discussions, and partnerships demonstrated a commitment to nurturing entrepreneurship and fostering innovation among youth in the OIC countries and beyond.